TIA invites you to the Intersex Awareness event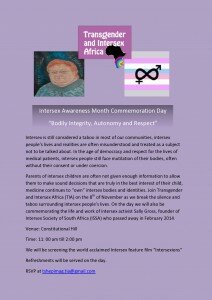 Intersex is still considered a taboo in most of our communities, intersex people's lives and realities are often misunderstood and treated as a subject not to be talked about. In the age of democracy and respect for the lives of medical patients, intersex people still face mutilation of their bodies, often without their consent or under coercion.
Parents of intersex children are often not given enough information to allow them to make sound decisions that are truly in the best interest of their child, medicine continues to "own" intersex bodies and identities. Join Transgender and Intersex Africa (TIA) on the 8th of November as we break the silence and taboo surrounding intersex people's lives. On the day we will also be commemorating the life and work of intersex activist Sally Gross, founder of Intersex Society of South Africa (ISSA) who passed away in February 2014.
Venue: Constitutional Hill
Time: 11: 00 am till 2:00 pm
We will be screening the world acclaimed Intersex feature film "Intersexions"
Refreshments will be served on the day.
RSVP at